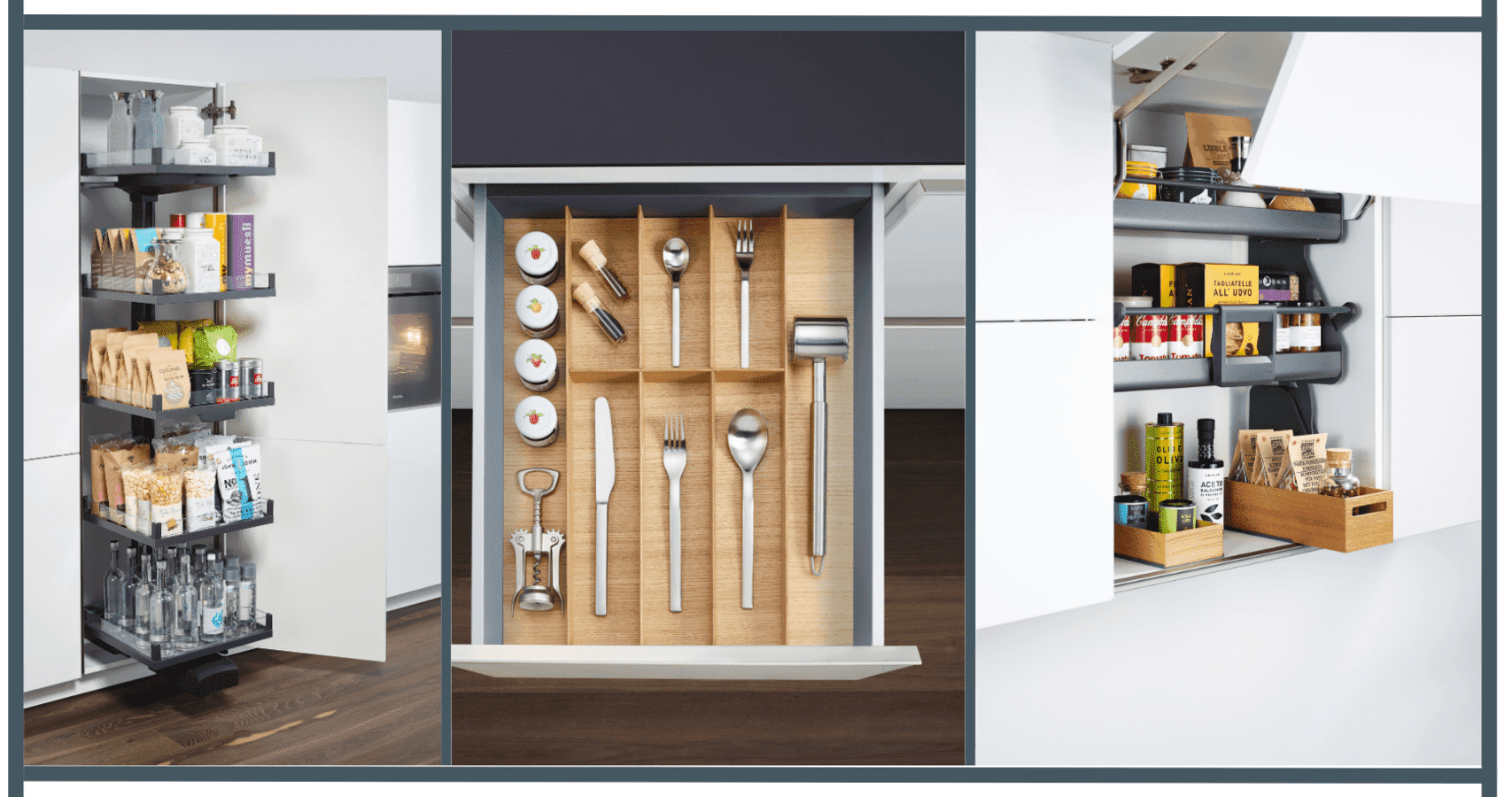 The whistle of a pressure cooker, mothers calling you for meals saying 'Khana Kha lo' and the sweet aroma of boiling chai instantly teleports us to only one place: our kitchen.
Kitchens are a quintessential and inseparable part of every Indian household filled with sweet, salty and tangy memories. A kitchen serves a broad spectrum of purposes, therefore it goes without saying that a kitchen should be designed such that it is user-friendly for the entire family.
We average-heightened Indians always face difficulty in reaching out the tallest cabinet. It sounds funny but it leads to catching hold of chairs or the tall people in the house most of the times, right? Almost always times, rushing around to and fro in the kitchen to prepare the meal, cook it and clean it up leaves us exhausted. All these day-to-day problems highlight the importance of the concept of ergonomics. Sounds difficult? Let us make it easy!
What is Kitchen Ergonomics?
Kitchen ergonomics is used in order to make the kitchen a comfortable place to work. It is the science of creating a comfortable work environment. One should always take into consideration the aspect of ergonomics before designing a kitchen. 
It's goal is to reduce the amount of strain and movement we experience while cooking. The emphasis is on creating the kitchen area such that it fits the needs of the individual using the space. With the ideal workstations and storage, you may work as efficiently as possible while enjoying the most comfort possible.
For example, if a family member has a problem of back pain; continuously bending down to open and close base cabinets would aggravate their back pain. Similarly, if somebody is experiencing severe neck pain, reaching tall cabinets becomes challenging. Additionally, elderly family members, especially grandparents lack the physical strength to push and pull out huge cabinets along with the weight of the groceries or utensils kept inside. To solve these day-to-day problems, sort and arrange the cabinets and accessories in your modular kitchen to save time and work. Hence, whether designing your kitchen or picking contemporary kitchen accessories, you must consider the ergonomics of each fitting you choose.  
5 Perfect Kesseboehmer kitchen accessories to make your kitchen life easier:
TurnMotion II
Does it happen that the products at the back of the shelf expire or remain unused as you could not see them easily or they weren't handy? We have the perfect solution for this problem! The TurnMotion II is a fitting that revolves effortlessly to move any side round to face you. This fitting is an ultra-practical solution for storage space that is above the ergonomically accessible height. Each tray provides a 360-degree view in either direction so that all of your items are clearly visible and within easy reach.
This has two main benefits: one, you are able to see every single item on the shelf without moving any products here and there, and second you won't have to reach forward on yours toe tips to view what's on the back of the shelf! Moreover, is also ideal for the frequently underused area above appliances, especially your microwave/oven unit. 
LeMans II
Say no-no to wasting your precious space in kitchen corners with our brilliant LeMans II! It is specifically designed to accommodate your bulky, heavy pots, pans as well as appliances! The opening mechanism of the Lemans can be started just by pulling with one finger! The LeMans trays swing separately out of the corner cabinet in an effortless train of motion and you get a clear and accessible overview of all everything stored in the Lemans at a glance.
The most surprising thing is that even with a maximum load of 25 kgs per tray, the entire working of the LeMans is as smooth as butter! It is equipped with a self-closing feature which activates automatically at an opening or closing angle of 60°, which is ideal from an ergonomic point of view. Additionally, the trays have anti-slip finish, so your pots and pans won't move or fall while opening or closing. Perhaps you have decided by now where exactly a LeMans will fit in your kitchen! 
iMove
Does it feel like climbing Mount Everest to get the items on the top shelf? We understand and we've got you covered! 'iMove' stands for 'intelligent movement' and makes products on high shelves easily accessible with its clever functionality.  iMove simplifies the way to store and reach heavy cutlery and tableware.
The core concept behind iMove is to divide storage between a moveable top shelf and a fixed bottom shelf. The open-close technology powered by SoftSTOPP makes it so fluid and smooth, that you don't need to jerk it open or push forcefully to close it. Its clever design makes it the ideal kitchen fitting for the short heighted or elderly!  
Tandem
Ever end up grabbing your groceries from your shopping bags rather than the shelves while cooking? Lack of space for our groceries in the kitchen sounds completely relatable to each one of us! Tandem pantry offers 'two cabinets behind one door' and gives supermarket shelf type storage right at home! Its split storage function offers twice the usability and space! 
As soon as the cupboard opens, the contents divide in two sections: one section is attached to the door and moves with it when opened. The second section is the rear section which automatically comes forward when the door opens. With Tandem pantry it is effortless to reach all your groceries without bending or stretching as they are all clearly visible in two easily accessible sections right in front.
 Now stop running here and there to find your groceries; with Tandem everything is stored in one place! 
SpaceFlexx
One of the most cluttered and messy parts of ours kitchens are drawers, where it is impossible to keep everything organized. Let's make this Mission Impossible to Mission Possible! SpaceFlexx is our freely movable and highly elastic nesttex dividers to keep all drawers in your home mess free and organized. Be it of any size, large or small, round or square; SpaceFlexx organizes and sorts everything in a non-slip and space-saving manner. 
The nestexx dividers are completely flexible and adjust themselves perfectly to the stored goods inside the drawer. The cherry on top is that they are machine washable! With this, say bye to cluttered drawers and hundreds of trips finding your containers and their lids! 
To sum up, keep the ergonomics factor in your mind while giving your kitchen a renovation! Making your kitchen ergonomic will increase comfort and work efficiency. A kitchen's charm extends beyond its stylish design. Only ergonomic planning can transform a kitchen into a masterpiece that you will enjoy using for a long time. Plan well, cook better! 
 We appreciate you taking the time to read our blog. Every Thursday, we publish a blog that you should check out to be updated about market trends, storage solutions, modular designs etc. See you soon!
– Stay Organized Stay Ahead