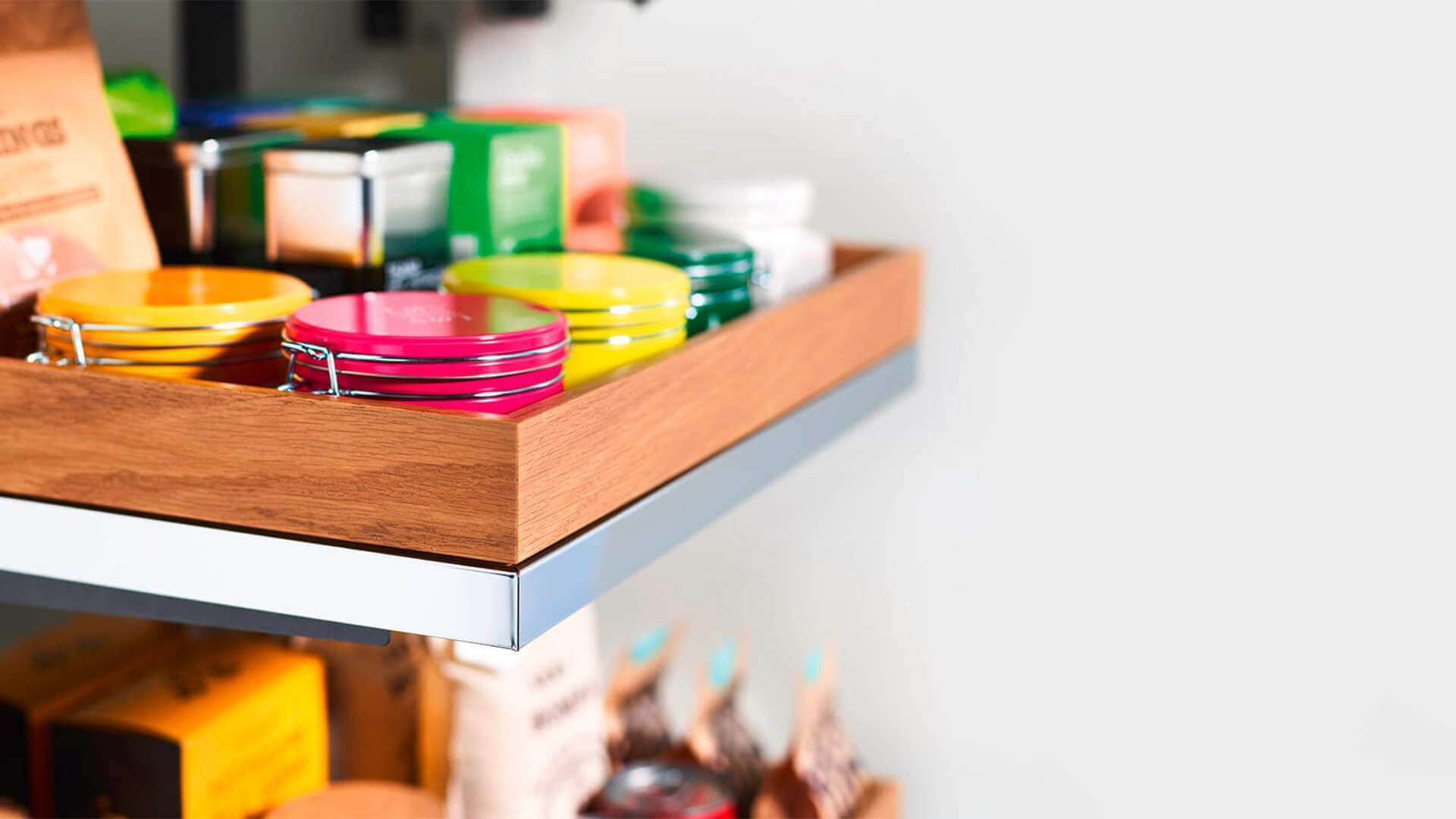 NO ONE WANTS YOU TO KNOW THIS, especially your kitchen manufacturer, so let's talk it out a bit.
How do you usually start your morning routine? Let's move with you to your kitchen & start cooking, wait why are you moving so much just to get your breakfast ready, & what's with the sound? is it really coming from your drawers, stop!!!!! dropping your utensil, why is everything bombarding with each other in your cabinets?
We know, we've seen it all now…& now your pretty husband asks you why you are in a bad mood…like really?? The worst part is your family has spent so much to end up in a kitchen like this.
And this is where we want to fill in the gap so the next time you go into the market to get your modular kitchen you have a checklist to look out at.
The following are the top 5 ingenious Clever storage ideas that every Indian kitchen must-have in 2023 while choosing the newest kitchen hardware:
1) Storage Space

Why do you'll trust them with your drawers? We have seen how whenever someone goes into the market to get a modular kitchen, we are always recommended kitchen drawers as the ultimate solution to store everything.
But let's talk about some logic, normally our utensils are in a round shape, and the drawer shape consists of a rectangle, hence if you get drawers installed the major issues lie you wasting half of your space from corner edges & between utensils.
This is where Kesseboehmer's clever storage comes in place, you need to have a proper balance in corner units & drawers installed with organizers so that the heavy pots & utensils can be kept separately in the corner unit such as Lemans while the other mini utensils such as spoons, plates, spatulas, etc, can be stored inside the drawers.
2) Optimal Space

Has this ever happened to you? You got a notification that your salary is deposited in your account & now you are in a thrilled mood to get all your grocery shopping up & running.
But wait did you get too excited to see the sale & now end up having a ton of groceries brought back to your home? The question is where to store all of this without creating a huge pile or hiding it behind counters & cabinets.
Stop playing hide & seek with your groceries, let's figure out a way for you to not end up in this situation. One of Kesseboehmer's clever storage tall units named, Tandem Pantry is all about giving you that optimal view & easy access at the same time with a tray load capacity of up to 10 Kg.
3) Ergonomics

In a survey, it is noticed that 70% of back pain & muscle pull out happen due to unplanned kitchen & picking up the wrong hardware unit for you, especially in your mid 30's.
Well, this is why we tell all our clients to go & have a proper talk with their kitchen dealer & get better clarity if the hardware they are getting covers ergonomic factors or not. Since this is something that's gonna play an important role in how you function in kitchen & also that your physical health isn't hampered in the long run.
All the Kesseboehmer products are designed with Clever storage ergonomic factors as the highest priority. One of the products, iMove shown below is the best example of ergonomic, you can easily just push back & pull out the unit down to get any of your spices without having to bend down or jump up.
4) Design
You ask yourself how many of you have gone to the internet to check hardware design instead your core focus is on searching terms like best kitchen trends, etc which is fine how do you justify getting a brand new kitchen & spending a huge amount without even having a quality hardware?
This is the last & the most common mistake that we want to help all Indians to come out of, Kesseboehmer Clever storage believes in having a high-quality hardware design that doesn't just checklist the outer beauty but also majors in the functionality.
So that you don't have to go through every morning listening to your drawers crazy sounds, or bent trays inside your cabinets, pests coming out of poor material used fittings, etc.
One of the best examples is shown below,
You can see how beautiful the Leman's trays look giving you those lavish vibes but at the same time can load up to 25Kg in a single tray. This is an example of a true Clever storage unit where you aren't sacrificing either beauty or functionality your hardware design.
We as Indians think that we can't have both quality & functionality at the same time or have been made believed by the industry for such a long time. But it's time to change all these myths.
5) Easy Care

The far most important point when going for kitchen hardware shopping is you need to check in the store if all their products come with anti-skid so that later on you don't end up laying mat all over your fittings.
Well, we don't have anything against mats it's just that imagine having them laid down in all your cabinets & you ending up spilling oil or spices. Now you can't get rid of the stain easily & the mess is a big bait for pests to come to check out your kitchen, & trust me you don't want to invite these sorts of guests, I mean we can do better.
The second thing that you need to check if your fittings are part of clever storage easy care, you ask how? Well, let's take a look at Lemans below, you can see how since it comes with a clickFlixx functionality it can be easily installed back once dismantled for cleaning purposes at home.
One more example of easy care is a Kesseboehmer fitting called MiO drawers which comes in with a 2mm gap in between so that you can easily bring a wet cloth to wipe the dust.
The best part is all our product's design comes with user-friendly installation instructions that can be done easily by you at home so you don't have to sit down on the floor & think to yourself, "why are things not going back to their place & how do I make it work?"
The next time you are going out in the market or researching online modular kitchens we want you peeps to be aware of everything from scratch & keep this clever storage checklist with you to break all those myths & get a fitting installed that's gonna last you life-long.
As always take care &  if you are new to our blog channel don't forget to like & share this post with your friends & family. For people who are already similar to our blogs, we love to have you all & would appreciate it if you keep flourishing your reads on us every Thursday.
Don't forget to "Hit the like button" & share this blog with your friends who are currently planning their kitchen. Take care, and write to us if you have any further queries or suggestions at marketingkesseboehmerindia@gmail.com   or  +91 7719911666