Do you plan to remodel your kitchen? Have you chosen the design from Google or Pinterest?
Would you like your kitchen to be just that way? STOP!
First and foremost, refrain from attempting to copy designs you find online. This is not because doing so is illegal, but rather because every individual, every industry, and every end customer has unique needs. Perhaps you don't need as much storage as someone with a large family would, or perhaps the kitchen design you loved had more appliances than you needed or was finished with a material that requires a little more upkeep than you want.

What alternative should you make? Something beneficial to YOU.
I'm not saying you can't have that design at all, but you will need to identify it precisely. If it's a colour, for example, you can maintain it as is, but not functional elements like zoning, storage, type of storage, lighting, etc.
These are the items that you and your designer must plan in accordance with YOUR functioning.
Now here are 6 Things To Consider In Modular Kitchen Design.
1) WORKING TRIANGLE/ GOLDEN TRIANGLE
What is a working triangle? It is the most important thing for planning a kitchen and dictates the placement of the Sink (wet zone) Cooktop (hot zone) and Refrigerator (cold zone)
Groceries —–> Storage/Fridge —–> Sink —–> Preparation platform —–> Cooking(HOB) —–> Service platform —–> Dining Table
Now imagine, you need to take 10 steps to reach each point, how hectic would that be while cooking your meal to hop here and there right? Whereas if you plan it according to the working triangle it will lessen the movement and make it easier for you.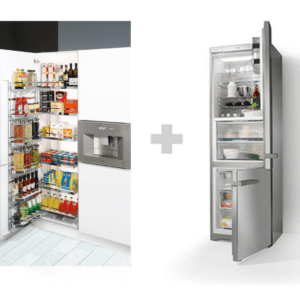 2) APPLIANCES
Don't fall for big advertisements, Plan your appliances according to your own requirements and plan it initially with kitchen planning so that electric and plumbing points won't be a problem later.
3) MATERIAL SELECTION
The kitchen is an area which is prone to moisture and heat so it is advisable to choose a water-resistant material for the base structure like BWR(Boiling Water Resistant) Plywood and Granite or Quartz for platform tops although Granite works best for Indian kitchens its always a personal choice, Avoid using marble as it's a porous material that makes it prone to staining.
4) STORAGE REQUIREMENT
This is directly proportionate to the number of members in a family. If you have a large family a tall pantry unit (MIO tall) is a great option for storing groceries and a Tandem pantry is for day-to-day use. If you have a small family need not go for large storage but must use every bit of a corner, I'm sure Lemans corner can help you with that.
5) MODULAR KITCHEN ACCESSORIES
What makes the modular kitchen so demanding isn't just the outer beauty of it but the accessories that are providing you with a speedy workflow and helping you lessen the time and frustration while in the kitchen. 
6) COLOR PALETTE
Warning! Do not do the mistake of choosing a vibrant colour for any place where in you want to feel peace and relaxation and a place that you are planning for the long term. The kitchen is indeed a long-term investment that you aren't going to change for years and cooking is indeed a relaxing activity for a lot of us. According to colour psychology, vibrant colours make you feel alert and energized whereas neutral colours provide you with calm and peace.
Planning your dream kitchen? Think Kesseböhmer India for clever storage solutions and trust German engineering to make your space stylish and organized. Get ready to explore our range of products that will help turn your vision into reality! #kitchentransformed
Hope This Will Help You To Plan Your Perfect Functional Kitchen!